BLE Announcements:

*** Farm Sale Announcement *** Border Livestock Exchange Ltd - We are delighted to have been favoured to conduct the Farm Sale on behalf of Floors Farming , Kelso. This sale is due to a change in farming policy . The sale will be live for bidding from Friday 19th until Tuesday 23rd January 2024 ***

Border Livestock Exchange Ltd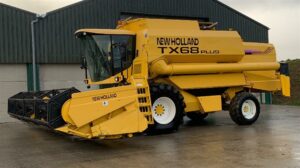 Border Livestock Exchange held their monthly online machinery auction .
Trade was very satisfactory for all types of well maintained machinery .
Star item was the New Holland TX68 Plus 52 reg Combine which sold for an impressive £31,600 .
Next top price was £18,200 for a 53 reg JCB 540 – 70 Farm Special Telehandler .
A McHale Fusion 2 Baler 2012 was bid to £15,500.
Rolland 14t Muck Spreader £9,700.
Rolland Stock Trailer 2017 £9,500.
Toyota Hilux Invincible £7,700 & £7,500 for 12 plates .
Oil & Steel Octopussy tracked Cherry picker £7,000.
JCB 8015 1.5t mini digger £5,700.
Ifor Williams cattle trailer £5,000
Fiat 60 90 4wd tractor £5,000.
Stewart 33ft flat trailer £4,000
Khun Accord 3m drill £3,500
Ritchie Combi Clamp £3,200
Grimme GZ Potato Harvester £3,100
Marshall bale trailer £2,500
12' Ifor Williams stock trailer £2,400
Keenan Klassik 100 feeder £1,500
20' cattle container £1,300
Bateson plant trailer £1,200
Marshall 5t trailer £1,100
Ritchie hydraulic feeder £1,000
****************************************************************
*** Farm Sale Announcement ***
Border Livestock Exchange Ltd
We are delighted to have been favoured to conduct the Farm Sale on behalf of Floors Farming , Kelso.
This sale is due to a change in farming policy .
The sale will be live for bidding from Friday 19th until Tuesday 23rd January 2024 .
Star & principal items include –
****Claas Trion 750TT 2023 Combine with 25' header. (Only 1 season) ****
John Deere Tractor 6210 R
Sumo Trio 3m Mounted Cultivator with Seed Hopper & Unit 2022
Stocks TJ8 i- Con Seeder Unit 2022.
Amazone 4m Folding KG 4000-2 seed drill with 4m front mounted hopper.
Kuhn Axis 40.2 M – EMC Vario Speed / 24m Disc spreading Fert Spreader 2021
Farm Gem EM FSE 1600 24m Trailed Sprayer 2013
Dalbo Mini Max Rollers 8.3m 2021
Bailey Flat 25' Trailer 10t 2014
Richard Western 11t Grain Trailer 2007
Mobile Grain Hopper for Seed Drill, Oil driven auger .
A full list with images will be available shortly .
Logan Brown: 07971 185657
Brian Ruthven: 07721 558795
************************************************
Border Livestock Exchange have conducted an extensive number of both online and on-farm sales over the years.
Our on-farm sales draw huge crowds with buyers attending from near and far and our online sales have bidders logging in from all over the UK and Europe.
To view some of our most recent sales please click on the link below
www.borderlivestock.co.uk/farm-sale-reports/
If you are interested in holding a farm sale or would be keen to enter items into one of our online sales please don't hesitate to contact any of team.
Logan 07971 185657, Brian 07721 558795
Emma 07917 611169, Office 01289 306067