BLE Announcements:

*** Sale Announcement On-Farm Farm Sale On behalf of Ellemford Farming Ltd, Cranshaws, Duns , Berwickshire TD11 3SG On Friday 20th May 2022 at 11am.*** Summer Online Machinery Sale. Live from Friday 24th June - Tuesday 28th June from 11am***

🤩Upcoming Online Auction Sale🤩 https://t.co/f28OtsdUBH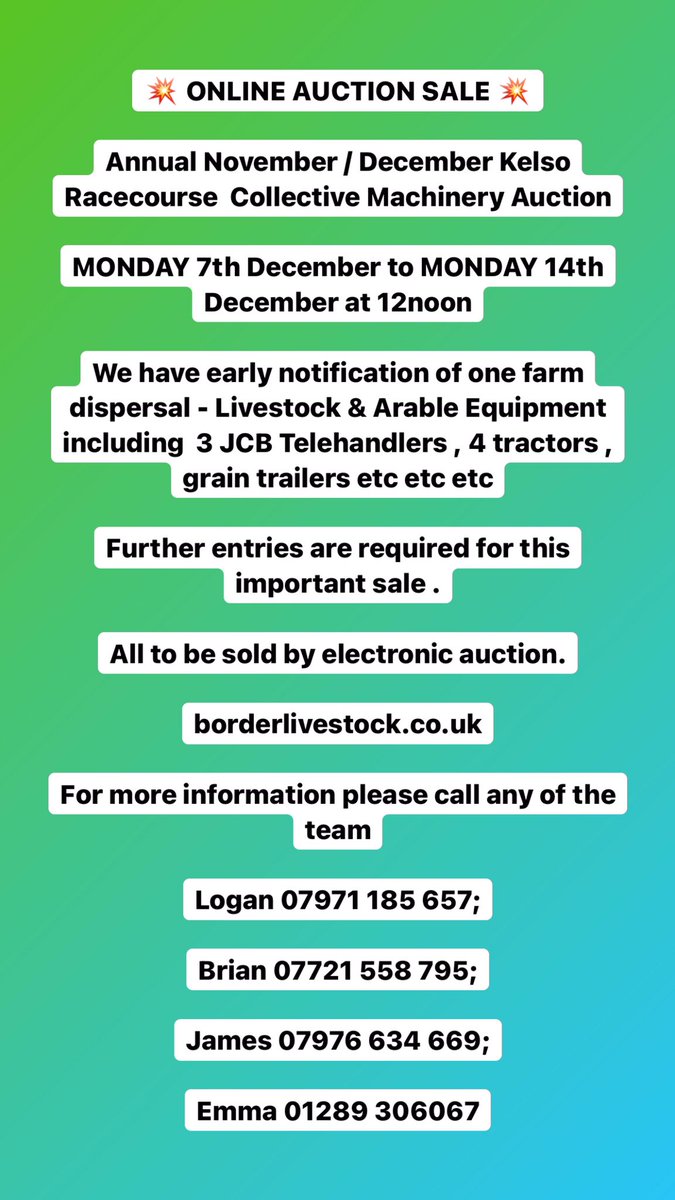 Border Livestock Exchange Ltd
Auctions for November 30th to December 4th 2020
ONLINE AUCTION SALE
Monday 30th November 2020 until Friday 4th December 2020 at 12noon.
We are conducting this auction on behalf of The Vine Trust , we're delighted to be working together in partnership with Forth Resource Management.
An amazing and generous offering of nearly 200 lots .
Ranging from Tractors , Trailers , Forklifts , Agricultural equipment plus tours and services / promises all donated to THE VINE TRUST
This auction has a value of almost £300,000
Terms & Conditions of Sale
Commission (+VAT @ 20%)
15% to £200
10% to £1000
5% £1001 & Over
PAYMENT: – Invoices will be emailed out to your registration e-mail address on completion of the Auction – please check your Junk & SPAM email if not seen in your Inbox.
All Items must be paid for within 24 hours of the Auction finishing.
All Items must be collected within 7 days of the Auction finishing.
No Results Found
The page you requested could not be found. Try refining your search, or use the navigation above to locate the post.

🤩Upcoming Online Auction Sale🤩 https://t.co/f28OtsdUBH