BLE Announcements:

💥 Farm Sale Announcement 💥   Online Timed Auction  - Northumberland Area -  Monday 22nd March 2021 – Monday 29th March 2021   Major Sale of Farm & Modern Arable Contracting Equipment   Further details to follow of this exciting sale.

ONLINE AUCTION SALES - Annual Spring Term Kelso Racecourse Collective Machinery Auction. Monday 15 February 2021 to Monday 1st March 2021 at 12 noon. 💥

2 months ago
🤩Upcoming Online Auction Sale🤩 https://t.co/f28OtsdUBH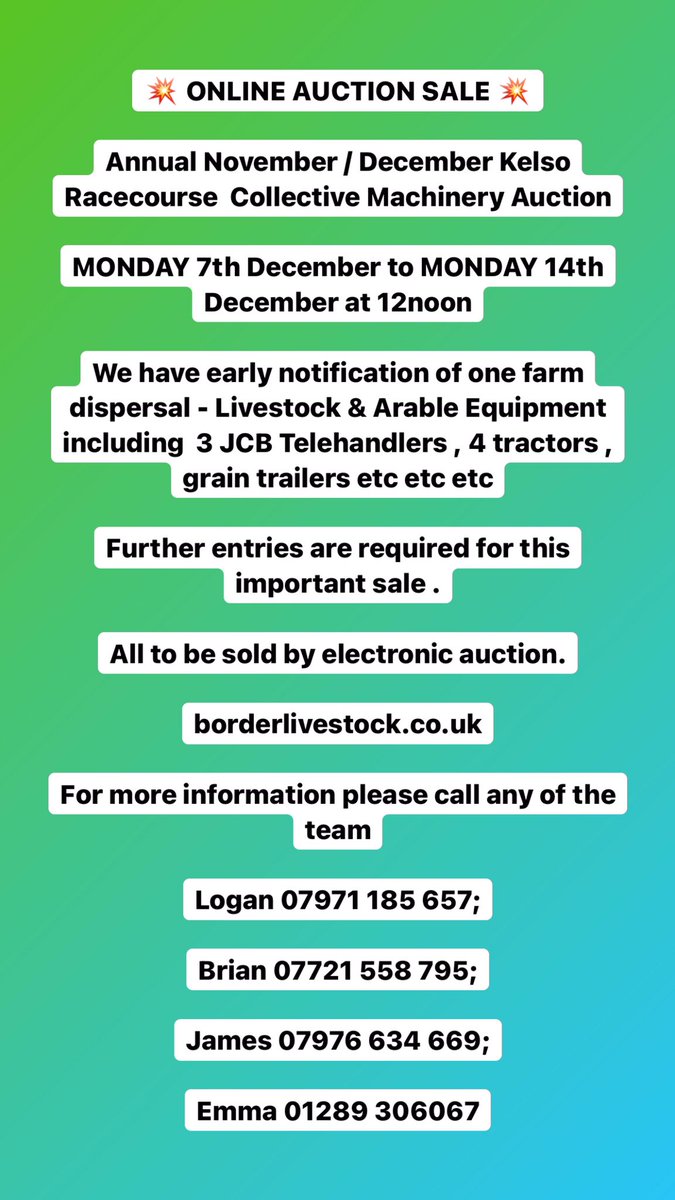 Valuations & Professional Services
All Professional Work is conducted by Directors who regularly receive instructions from Farmers; Local and National Land Agents and Law Firms; Banks; Beneficiaries; Claimants and Individuals. Border Livestock are Corporate Members of the Institute of Auctioneers and Appraisers (www.auctioneersscotland.co.uk) and South of Scotland and Borders Valuers Association. Each Director has many years of practical experience coupled with specialist and local knowledge of Valuations and Negotiations in the following areas:
Livestock Valuations of Commercial, Pedigree, Bound/Hefted, or Organic Sheep and Cattle – Breeding Stock, Stores or Prime Stock
Whole Farm Valuations – Live and Dead Stock; Crop Standing or in Store; Machinery and Vehicles; Fixtures and Fittings; Feedstuffs in Store or Ensiled; Fertilisers and Chemicals; Residuals; Single Farm Payment Entitlements etc, etc
Valuations and Negotiations undertaken for the following purposes: TB, BSE, FMD (being members of the DEFRA & SERAD valuation panels); Insurance Claims; Rent Reviews & Disputes; Property transfer; Tenancy Transfers; Disturbance; Local Authority Claims; Public Utilities; Telephone Masts; Probate; Divorce and Separations; End of Year Tax and VAT Valuations.
Schedules of Condition a speciality. New Exclusive Software has been written for us to effect this important document when New Tenancies are entered into. Using high tec digital imagery and mapping, Records of the State of the Property are made at commencement of the tenancy, avoiding future acrimonious disputes over Dilapidations or Improvements.
Being intimately involved with the day to day selling of livestock; displenishing sales of machinery and livestock; crop & straw sales and grazings, and having built up an unrivalled client base of all categories of farmers; contractors; farm managers; land agents; law firms and consultancy companies, Border Livestock Exchange find themselves eminently well qualified to conduct all types of Valuation.
Within the last twelve months we have been favoured with and conducted the following instructions:
Three Schedule Of Conditions – New software was written to record in words and 2300 digital photographs the state of all fences, gates, drains, ditches and buildings on an 800 acre estate, and two 450 acre farms that have been absorbed into neighbouring businesses. As the renting climate changes all new incoming tenants and landlords would be well advised to have accurate records of the state of condition of their properties to avoid future acrimonious disputes over improvements or dilapidation.
Four major Livestock and Machinery Valuations – three for realignments of family assets and one for a divorce.
A Bound Hillstock Valuation of 1710 breeding sheep
Twelve End of Year Tax Valuations
Two Utility Projects (A1 Improvement Investigations) negotiated for access fees and reparations.
Four Whole Farm Grazing Licences organised. In the era of Single Farm Payments it is vital that all grazing agreements formal or otherwise are correctly documented within recognised contracts.
1565 Hectares of Naked Acres have been let for Validation and 466 Hectares of Entitlement sold.
A Model Breeding Stock Rental Agreement drafted up and legally sanctioned.

2 months ago
🤩Upcoming Online Auction Sale🤩 https://t.co/f28OtsdUBH